We value our clients' experience at Roseland Animal Hospital. If your pet or animal is currently a patient, please feel free to complete the following Client Experience Questionnaire. The Questionnaire is in Adobe Acrobat format, and requires the free Acrobat Reader to view.
Download & Print Questionnaire
Dr. Rachel Sparke
---
Bandit's War on Cancer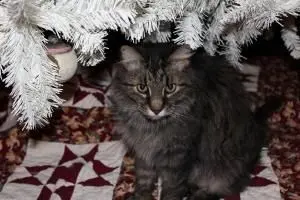 Bandit is our 14 year old Maine Coon that we have had since coming to us. His life started out as a rescue cat from a very nice lady in Michigan. We had talked a lot about having us adopt Bandit. It was not till she sent photos of him that my wife was stricken and we said yes. He had been abused by the family that had him and was handed off to Cyndie that took him in.
The day I picked him up we had quite the time chasing him about the house to get him in the carrier. Still we did and his trip to South Bend and a loving home started. The first day he stayed upstairs and was not sure of his new home. Finally he did come down. It was the second day that we found the one thing he likes to do that is to hide.
All day I searched high and low for him thinking that he had gotten out or was somewhere in trouble. Then as I laid on the couch my wife said to have a look that a pair of green eyes were staring at you. It was Bandit, he had been hiding under one of the chairs all day, despite having tuna spread all over the house. We later found that he is not much into fish.
Since then he has been our kitten or a big ktiten. He loves to play chase and loves to lay paw bat. Of course the ever popular laser light. While he has slowed some he loves to sit next to us and have his tummy rubbed and head scratched. When his sister Pumpkin came to live with us he had a new play mate and someone to chase about the house.
In the summer of 2015 we noticed that he seemed to be thinning out, and not as playful as he had been. So we made an appointment with Dr. Sparke to see what was wrong. She at first thought it might be an infection and dehydration, but a couple of days of antibiotics and IV's the blood work did not improve. More tests gave us the bad news. He had cancer and growths on his intestines. We were given several options but had the surgery and the start of a new treatment. During the next year of every three weeks of chemo, we noticed that he was becoming the old Bandit we knew, playing and most of all eating and gaining back some weight. While we had a few set backs once the treatments were done we were all surprised at how well he has responded.
He is still on daily medication but the last visit showed that is almost now 10 pounds. All the hair that he lost during treatment has returned. Everyone that knew him from coming for the treatments love to see the old Bandit. He has slowed a little with age, he still plays with his sister that adopted us, a story for another time. Bandit is part of our family and hope to have him for along time.
We are grateful to Dr. Sparke and the whole staff at Roseland Animal Hospital for the dedication and loving care that they gave Bandit and all the small friends that come to them. Bandit is with us today because of them.
---
Jackson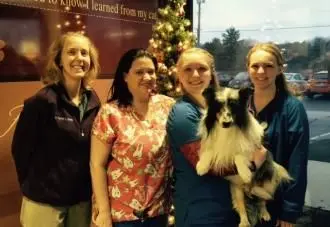 We wanted to say a little something special about Jackson. He is 3 years old. We only met him about a year ago, but his journey has bonded us for life. See, last year this young fellow was diagnosed with intestinal lymphoma. And this picture to the left, well that was taken on the day of his final chemotherapy session over a month ago (today's date 2/12/15). He finished a 17 week chemotherapy protocol like a champ. Jackson is now in remission. We love him and admire his strength and courage as well as that of his owner's. So this is his spotlight. His moment to shine and say "you can't bring me down cancer - no way!".
~Love and hugs, the staff and doctors of Roseland Animal Hospital
Update 6/16/15. Six months post-chemotherapy ending and little Jackson is still going strong and no evidence at this time of recurrence. We are hopeful but cautious and optimistic that he may be forever cured of his cancer. :)
Update January 2017: Jackson suddenly departed this physical world due to unknown causes. He will be missed greatly. Our thoughts and prayers are with his family.
---
years of care
Sassy, a beagle, has passed her 20th birthday. Her owner requested that we share this with everyone:
"Sassy is twenty years old and her owner credits RAH for the superb health care that has helped her to live a long and happy life.....and she is still going strong."
Congratulations Sassy~ the loving staff of RAH
Update - Sassy has since passed away, but her memory will live on forever. We love you Sassy dog!
---
Loving the Training
"Doc-I can't say enough about our experience through puppy kindergarten and obedience with Jody! She is patient, caring and just incredible as a trainer, coach, cheerleader and mentor. It was her guidance that helped Doc achieve his CGC today! Thank you so much for offering such an amazing experience with such a talented professional trainer! I recommend her to everyone that asks where Doc got his good manners!!"
Nancy L.
---
Compassionate Care - owner perspective
"I recently had to switch veterinary clinics due to distance ( about a year now) and I found that Roseland Animal Hospital was a very caring and loving environment. Best change ever for my pets health. The staff/doctors are very knowledgeable and friendly. They all show such love for the animals of all types and sizes. All staff is very helpful with all questions asked. My dog ZuZu loves coming there. She believes they are all there to see her. I also have a cat named Soffie and he is very comfortable when he is in for a visit as well ( great feeling). I recently had to put my other cat down and the entire staff and doctors were absolutely great during this very difficult time for our family. I look forward to many years of taking my babies to them. I have a new Persian kitten that will fit in perfectly with them and trust them with all his health care needs. Thank you to all for your caring of all my pets"
As received via email from Beth Ann Green
---
Beautiful and pleasant hospital
Mrs. Kusmer writes:
What we liked:
Loved the spacious parking area;
short wait before getting a room;
no blaring tv or music to upset pets (something so rare these days);
Dr. Sparke is great;
attractive set-up of the office and rooms;
good design of rooms (a scared cat can't hide anywhere);
short waiting times to schedule appointments.
I loved the sayings and animal things around the top of the waiting room--esp. the purring cat one :-)
Everything was very pleasant, peaceful, and efficient.
I was very pleased and would definitely recommend your practice!
---
Abbey's Amazing Success
"When I sat down to write this, our cat Abbey promptly jumped up on my lap and began to purr. This scene might sound ordinary, but if you had seen her a month ago, you would consider it a miracle.
Abbey is an 18-year-old Siamese afflicted with arthritis in her back and hips. Because she cannot stomach the medication to ease the inflammation, her condition has deteriorated over time. In late winter she began to really suffer. Ordinarily social, vocal, and active, now she would lie alone by the furnace all day, gaunt and motionless; she lost interest in food and drink and became so dehydrated that her kidneys were in crisis. She reached the point that when going downstairs, she just dragged her back legs behind her, so that they tumbled from stair to stair. She stopped purring and meowing. My husband and I did not think she could live much longer, and we began to think she herself had lost the desire to go on.
Just at that point my husband and I were about to leave on a major ski trip that we had carefully planned, with our grown children flying in from Los Angeles and Dallas. I considered not going, for we doubted that Abbey could survive our absence, and I hated to think of abandoning her, who had been such a friend to us for so long, in her last moments. Ultimately we went, though, taking Abbey in to board for ten days at Roseland Animal Hospital. We agreed that while there, Dr. Sparke would try cold laser treatments to see whether they could lessen Abbey's pain. The staff at Roseland were all so kind that I knew that no matter what happened, Abbey would receive loving care there. Although this compassion and competence were reassuring, my husband and I drove away with the sad thought that we may have said our last good-bye to Abbey.
The next morning I received an email message from Dr. Sparke, who wrote that Abbey, evidently in direct response to the first treatment, was eating, meowing, and moving around her cage. What an incredible transformation! Our whole family was ecstatic. Further treatments brought further improvements. We could enjoy our skiing with our family, knowing Abbey was gaining ground. By the time we returned from our trip, the miserable animal that had been so near death was once again our familiar little girl.
In the weeks since then, Abbey has received regular treatments, now spaced at twice a week. She is back to herself again--loud, snoopy, and busy, jumping up on the bed to wake me up early, trying to steal from our dinner plates, greeting us when we come home from errands, and asking to go outdoors to sit on the step in the sunshine. Her tail is up and perky as she trots from room to room, and she meows for food right in chorus with our two other cats. She looks and acts happy.
The treatment itself is simple, painless, and fast. While I hold her, the technician moves what looks like a computer mouse over Abbey's troubled spots. It seems like magic.
In short, the cold laser treatments brought about a remarkable and immediate change in Abbey, obviously relieving her arthritis pain and dramatically improving her quality of life. This technology gave us a great story for the Easter season, of a dear old cat who came back from the brink of death. The people at Roseland--Dr. Sparke and Dr. Maske and all the staff--gave Abbey the best of care and attention and treated me with understanding, going above and beyond their duties to bring comfort to both cat and owner and to keep me informed in my time of anxiety. I certainly recommend giving cold laser treatments a try if your pet has been suffering, and I warmly recommend Roseland Animal Hospital.
Abbey is still sitting here, purring blissfully right in front of my face; I believe that she herself is giving thanks and providing her own testimonial.
Jan Seabaugh and Abbey"
---
In an email from King Cyrus' proud dad:
"Hello everyone just wanted to inform you that King Cyrus has Won 2 more titles in the Dog Show world Abkc( americanbullykennelclub)
1st place and 2nd place overall in the atomic dog show!!!! Will be in next months magazine also thanks for all your help getting him healthy!!!!"
We are so proud of King Cyrus - way to go! Keep up the hard work - he makes it look so easy!!
---
Weight Loss Stories
Lucky began his battle against weight in January 2013. To date (April 2013) he has lost 1 whole pound. Lucky's goal is a realistic 4 pounds. Help us support him and his owner as they courageous take on this challenge. Great job so far Lucky!
---
Tender and Comprehensive Care
It's now been a little over a year since MazKenzie's last bout with Red (Demodectic) Mange and she continues to flourish without a hint of her prior illness.
I was aware when I adopted her she had a history of Red Mange, and two years ago, when she got sick again, I took her to my current vet at the time (another local clinic), and spent quite a lot of money for several appointments and medicine (including steroids, which unbeknownst to me actually worsened her condition!) The other clinic just kept telling me she had "allergies" (even though I told them about her history) and poor Ms. MacKenzie just kept getting more sick. It broke my heart to see her listless, hiding and sleeping in weird places (under the bed, in the closet) and not wanting to be touched or petted, and not wanting to run around and play with her siblings, and she was barely two years old!! She had sickening, bleeding welts and lesions all over her paws, legs, tail and back. I often cried just looking at her and felt so helpless that I could do nothing about it.
I decided to get another opinion, and thank God for Dr. Sparke and Dr. Maske!!!! When I told Dr. Sparke MacKenzie had a history of Red Mange and would get worse after she finished her round of antibiotics, Dr. Sparke put two and two together and ordered an inexpensive skin scraping test, and low and behold, she actually did have Red Mange again. (The antibiotics the other vet clinic ordered were appropriate, as Mac had severe skin infection, which is common along with Red Mange, but the steroids only make the condition worse, the condition being a compromised immune system thing, and steroids only weaken the immune system!)
I truly believe there was a good chance I may have lost Mac if I hadn't taken her to Roseland for a second opinion. Dr. Maske also stepped in and helped tremendously with her care when Dr. Sparke was on maternity leave. Although the Red Mange came back a third time (Red Mange is a very tricky illness to treat, and we decided perhaps we didn't treat her long enough, and extended her treatment this last time) but with continued care and now the oral heartworm medication she takes (which contains the same ingredient as her oral meds she took for her condition) as well as the flea medication she takes (which contains the same ingredient as her medicinal bath/dips Roseland did for her condition) I believe Ms. MacKenzie is now free and clear for the long haul!
Dr. Sparke and Dr. Maske both were just as heartbroken as me during Mac's illness, and then later were just as joyful as I was when Mac got better. It's clearly evident they love and care for their patients just as much as the owners do. The entire staff cares very deeply, as well, and they were constantly rooting for my little MacKenzie.
Thank you all for everything that you do!!!
Amy O.
---
New experience
All the staff at Roseland animal hospital have been very nice to me and to my cat Butter. I had an unexpected experience when I brought her in, but in the end everything turned out very well and she is doing very well! All the staff was very nice to us and very understanding of what was going on with her. They were more understanding and eager to help me and explain things to me.
Thank you for all you do for animal lovers and their pets!
Angela D.